Originally posted
here
Whenever you write a review the really,
really
endorses an item, it sounds like you were paid to do it. And, if you were paid, it sounds contrived. I wasn't paid for this review, nor did I get anything in return for reviewing this item. I actually bought it earlier in the week and I just really dig it. So I thought I'd share.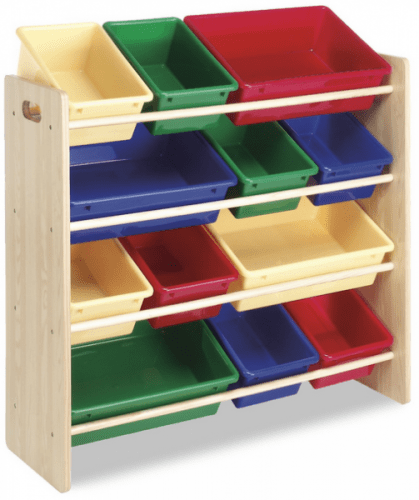 I live under the false illusion that I am organized. Of course, for months, my idea of living room organization (as it relates to the kids toys) is this Sterlite bin that I kept under the train table. The kiddos would randomly (and not even to play with anything) dump it in the floor. It drove me nuts. But, it was easy enough to just throw all the trains, cars, tracks, etc in it when someone was coming over. In spite of the fact that it was unorganized and didnt look all togethern neat... But hey! Trains and cars (that REALLY hurt when you step on them) weren't in the floor, so I'm organized.
Honestly, it got to the point this week (probably because a fair amount of my time is spent loving the couch) that the sound of the metal and wood and plastic crashing to the floor, the kids standing on the bin just for fun, and the all around lack of 'neat' look took me down. I just couldnt take it anymore. So I pulled up my trusted buddy, Amazon, and looked for some sort of storage. I wasn't sure what I'd get but I needed something... I wanted the living room to look more organized (I mean, it's the twins' living room too, so I didnt want to banish their living room toys to the playroom because I couldnt deal) and I just wanted something that looked (and was) more organized. Enter the bin system.
I looked at a few and, because I'm anal, read all the reviews and I opted to get the
Whitmor
. At an Amazon price of $55 (retail listed as $90), it was cheaper than all the other bin organizers and it had the best reviews (4 out of 5 stars). I even opted, with my Prime, to overnight it for $4 because I.WAS.DONE. I needed something and I was on the verge of meltdown central. (I know, it sounds crazy to be this UP over something so pointless but hey... I am me... This is how I roll.) I ordered it Monday afternoon, it arrived Tuesday afternoon and, after my run and while our neighborhood babysitter was still here with the kids, I unloaded the box, which consisted of 2 MDF side panels, 8 metal rods, 16 screws (17 actually), 4 large bins, and 8 small bins.
No kidding: in 15 minutes, it was assembled. The poles lined up to predrilled holes and I screwed in the one side before laying the second side on top of the poles and screwing those in. All while carrying on a conversation. It was a breeze. Then, we slipped the bins into place and voila! Ready to go. I organized the toys and decided to count down how long it would take for at least one of the bins to end up on the floor.
I'm still waiting.
For whatever reason, Bobby and Maya dig this. Maybe it is the primary colors. Maybe it is because they can now find their different types of trains and cars. Who even knows. They take toys out and play with them, but no throwing, no mess. And, when they are done, they have started putting them back! (When they havent, I have put them back, but even my stress about cleaning up has dropped- probably because I'm not cleaning up what seems like a billion small trains/cars!) It looks wwwaaaayyyy better and it even inspired me to move their chairs up and put their train table behind them (instead of in front, where it worked almost like a psuedo-coffee table to the main living area. Now, it's almost like our living room has been divided into "living room" and "play area", which is nice.
But the mess... Oh the mess... Or lack there of! THANK YOU!
It is made out of MDF (which isnt great but lends to the fiscality of it) but the metal rods seem stable (not enough to have little monkeys climb on but to able to do the job they are fine). The bins are a good, hard plastic, which I think would work well even if we didnt have the organizer anymore.
Did I mention it cleaned up the clutter?
So... if you have little ones (or you do lots of crafts) and you want something that is easy to put together, wont break the bank, and is very functional (and may even inspire your little guy or gal to clean up after themselves), I highly recommend this. I even gave it 5 stars on Amazon, so you know I like it!