June 17th will be 13 years since Peter and I shared our vows to one another. 13 years... Considering I was barely 18 and he a bit shy of 20, we've had a relatively very happy decade plus 3. It'll be 12 years since our wedding, right after the kids' turn 2, in September, but that is when everyone else sends cards to us... For Peter and I, our private, June vow exchange is the 'real' anniversary and is the one we tend to celebrate most.
This year, the 17th is a Friday and our favorite PA winery,
Galen Glen
, about an hour north of us, is having a dinner with wine pairing.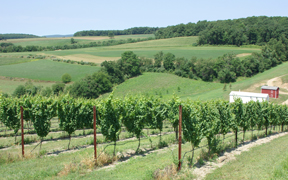 Peter mentioned it earlier in the week, and I could tell he liked the idea of going (as do I!). But, it'll be late and then, with the hour drive... So he mentioned "It would be nice if we could stay over." I laughed about the idea, because the town it is in doesnt strike me as a town big enough for accommodations, but I did a cursory check and, sure enough, a B&B popped up. The name of it? The
Alexander Benjamin House
.
We talked about it briefly and decided, there would be no harm in checking to see how his mom and Sarah would feel about an overnight babysitting...
I joke that my MIL read the email and probably did a dance, wishing June was next week! But, in all seriousness, these sweet women readily accepted the challenge... And, before I can talk myself out of it (by letting my mind wander with all the things that could happen while we are gone for 24 hours), I have booked the
Green Room
at the B&B and emailed the winery about the tasting dinner. So, in a little over 2 months, we will be- voluntarily- spending 2 days and 1 night away from Bobby and Maya.
It's no secret that I'm slightly protective of them (slightly...) and, I'll admit, the idea of being away from them for the first time tugs at my heart. Will they drown during their bath? Not want to eat their dinner? Refuse to go to bed? Not get a good night's sleep? Boycott breakfast? Or, perhaps this breaks my heart a bit too, will they do everything as normal and not even notice we are gone? (Doubtful, but possible). I've been nervous about traveling to TN for the half marathon in September, but, at least, Peter will be with them. This time, we're both gone.
Leaving them for 9 weeks, (save a few times around Maya's surgery) was excruciating, as though a knife was being torn through my heart. But we knew that it was best
for them
. This time, that's not it... This time, we are
voluntarily
leaving them behind... Taking 24 hours (and actually, I've mapped it out, it's only 21.5 hours or so) for
us
. To have a moment to be a couple, a man and a woman, a husband and a wife.
It feels selfish, but at the same time, it feels special too. We would never have dreamed of doing something like this when they were 9 months old, but at 21 months old... It feels like they'll be okay (and may even have a good time!). Will Aunt Sarah sneak them chocolate milk after their bath? Will Uita let them sit up long after they should be in bed, watching Kung Fu Panda? We wont be able to know. Of course, we'll be connected... We'll have our cell phones with us, turned up high, the entire time we are away...just in case... but we'll still be away. At least an hour away...
I'm trying not to worry about what *could* happen. Parents leave their children in daycare for more hours than this every week. Parents go away on week long vacations and leave their kids behind. Heck, parents even pack up their kids and send them to their grandparents' homes for weeks! It's not like we're doing anything strange or out of the ordinary. And that, too, makes it weird.
I know that I can be overprotective of them, and I dont make apologies for that. But, something I strive to do is be as normal of a parent as being an orphaned parent lets me be. I dont want to keep them from some activity because of my fear; I dont want to isolate them from the other people who love them and want alone time with them, because I have a constant fear of 'what if'. At some point, I know we have to let go and let what's going to happen...happen. For better or for worse. And hope it will always be better. The wedding last September was hard... and the kids were fine. Taking my MIL up on her offer to watch the kids for an hour or so twice a week so I could go to the gym was hard and made me feel selfish and guilty...but I'm a better mother for it, she is an outstanding grandmother, and the kids love their time with her. Packing the kids off to my in-laws once a week from just after breakfast until we all have dinner there was a hard adjustment that (still) has me crying (a bit, and not every time) when I'm on the way home...but the kids look forward to it, they LOVE their grandparents and their grandparents love them (and this special time), and our house is clean. No broken bones, no choking, nothing bad... Just the kids, enjoying the time with the special people in their lives who aren't mom and dad... and that's a good thing.
But it's still hard.
And I still feel guilty for being excited that Peter and I are going to have a delicious, wine-paired dinner at our favorite winery, a night alone in a B&B
with a hottub in our room!!!
, and a delicious, organic breakfast the next morning (that I'm not preparing). It'll be nice to realize that we'd do it all over again. No questions... No doubts... No regrets...
I feel guilty, but I feel really happy, too.