I was contacted several weeks ago to review a book of grief poetry and photography. Days after agreeing,
Seasons of Solace: a story of healing through photos and poems
, by Janelle Shantz Hertzler arrived. Ms. Hertzler, a native of Canada, now lives in Pennsylvania with her young son, after losing her husband to a drunk driver while they served as missionaries in Thailand. The book itself is beautiful, and the cover art immediately drew me in. (Although, with two babies, it did take me a while to finish the entire 77 page book).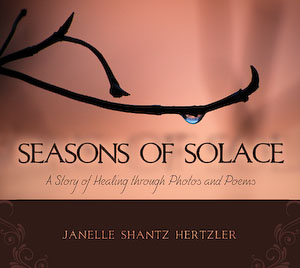 The photography is breathtaking. Focusing on nature scenes, Ms. Hertzler's technique makes the simplest image of a leaf or feather serene in both natural beauty and heartbreaking sorrow. Without looking back at the pages, in my mind's eye, I can see a photograph of a red leaf against river rocks. At first glance, it is a natural eavesdropping of a fallen leave against a riverbed. But, from a grief perspective, the blood red leaf lays alone against the dry, waterless stone. Soft on hard. Life dying on death.
Ms. Hertzler rediscovered her love of poetry in response to her grief, and as a tool for releasing her feelings. Although only a few of the poems in their entirety spoke to my heart, the majority of them had sections of them that brought tears to my eyes or made me think "Yes, I understand...". Poems like "Gap in Time" (I sit in an unseen gap in time./He's dead. I don't know it.../Emptiness between the wings of cherubim,/where God said, "I will be met."), and "Pearl Earrings" ("Dead inside,/I resolve to join the living.../Choosing to love and live/is no guarantee there/wont be more loss and death") have lines that caused my breath to catch in their brisk honesty , while her musings on picking up her husband's things in "Personal Effects" will speak to anyone who is left with only tangible reminders of a life lived and the ignorance of thoughtless words. But it is the simply titled "Your Stories" that brings the measure of loss to full impact. ("So many stories have gone/that only you knew.../You are so much more/than thesum of your stories./Yet that is all we have left,/so we will cherish them.").
Overall, I would give this book 4 out of 5, and would recommend it for those who have lost older children or adults close to them (although, those who have lost pregnancies, infants, and young children will also find poignant moments that speak to the soul as well). Curl up with the book, a hot cup of herbal tea, and a window view on a stormy afternoon at dusk, and let yourself grieve and grow.
Interested in winning a copy for yourself?
Leave a comment below, and I will randomly pick a winner via drawing names of readers out of a hat! The giveaway will end on Friday (May 14th).
For more information on the author, you can click
here
and to buy a copy of Seasons of Solace, you can find it
here
.
In full disclosure, while I was not compensated for reviewing this book, I did receive a copy at no cost (a $17.95 value).
Seasons of Solace
by Janelle Shantz Hertzler
Published by Synergy Books (c)2010
ISBN: 978-0984076048
$17.95 list price